"Mexican Religion, Our Lady of Guadalupe"
The Virgin of Guadalupe, also called Our Lady of Guadalupe by most Mexican people, appeared in 1531 A.D. in what is now the northern part of Mexico City. She left her image printed on a piece of jute, a rustic woven fabric, which has been studied by many important scientists including some from the NASA.
The image of Our Lady of Guadalupe represents the integration between the Aztec and Spanish cultures including their different religious aspects. It was also the first flag of Mexico, and plays an important role in the current flag of the country, since the colors chosen to represent it (green, white, and red) were taken from the wing of the angel at the bottom of the original image. Guadalupe is the soul of Mexico, a soul for a young country with growing pains.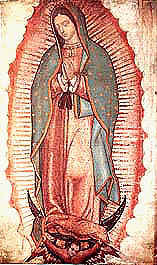 Millions of people from all over the world visit Guadalupe´s Shrine which is located in the Northern part of Mexico City, where it is said, she appreared.
Guadalupe is the answer to the search of all times, Mexican and American faithful people. Recently, John Paul II named Our Lady of Guadalupe the center of Christianity for all the American Continent.