Round, flat, with braids or handles; square, oblong or in almost any style, color and form; a wide variety of baskets can be found in the Mexican typical markets.
But, do you know the way indigenous hand-weave these beautiful and artistic baskets?
The material selection is very important, because for different materials, different techniques. The most common used materials for weaving baskets are: wicker, ditch reed, rush, palm, sugar cane, straw and rod.
So, first of all, any chosen material must be soaked and fresh; this condition gives flexibility and elasticity to the vegetable fibers and the weaving task turns easier.
María del Sagrario, who leaves nearby Córdoba, Veracruz showed us, step by step, how she performs this job: The weaving labor start at the base. Here is when the form is conceived. The frame is structured in a radial composition formed by four sugar cane rinds of approximately 1 inch wide each one. These frames extend form the base limit and up to the desired height.
Here is where the real weaving work begins. The cane rind in cut in thiner stripes and is interwoven among the base structure. When the desired base size is achieved, the woven continues upper.
"The Art of Weaving Baskets"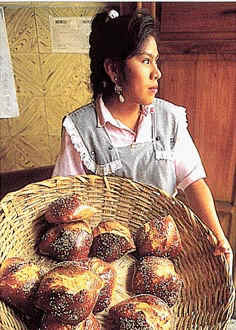 Mexico has gone through its history in time of baskets.

BUYING TIP: When buying woven baskets, avoid the ones presenting green or dark spots often at the bottom. This means that the piece has been exposed to excesive moisture or rain and the vegetable fibers are starting to get rotten.
Learn more about the people and process of weaving:
If the basket is going to have handle, it is taken as extensions from one axe and the opposite one from the base.
By this point, in which the basket structure is almost filled in its totality with the waved material, is time to grade the border. When it is completely even, a braid ring with the same material is placed as a crest.
The baskets are placed under the sun and left there until they get dry. Depending on the climate in each zone, it can take two or three days, when they become yellowish or golden brown. If it is the artisan choice, this is the right moment to paint or varnish his creation. This gives an attractive look and also protects the basket from moth and other insects.
In some places of Mexico, for example in Veracruz towns and communities, indigenous women weave up to 20 medium baskets daily. Some of them perform this activity as their way of leaving.
There is nothing more attractive than a visit to a small community market and contemplate such colorful sample of flowers, fruits, sweet rolls, vegetables, and typical textiles arranged in all kind of baskets.