The Mayan Golden age took place before the Spaniards arrived to Mexico in the 15th century.
Mayas built amazing constructions due to their extraordinary architectural knowledge based in Mathematics and Astronomy. They had a very accurate calendar which was much more exact than the one we use now a days. They invented the "zero" in their advanced numeric system, positional and based in 20 and used this numbering system to predict and describe eclipses in their far future.
Mayan constructions are so beautiful due to the wonderful stone work and sculpturing they used, as well as their gold and metal works, such as those found in European churches.
"Maya, Greeks of America"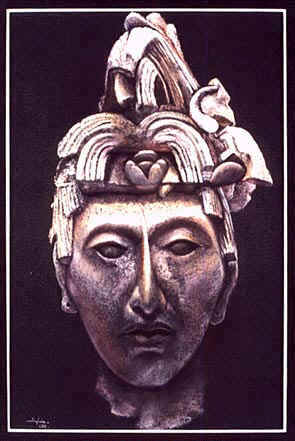 Above: Mayan Head.
Sylvia Carrasco, 1999 Pastel
TRAVEL TIP: When you visit the beautiful international seashores of Mexico like CANCUN don't forget to see the nearby ancient Mayan constructions (pyramids). We suggest you take a well-guided tour to make your trip a wonderful and magical experience.
Kukulcan, their god, which they identified with the planet Venus (a sacred planet), was to the Mayas as Quetzalcoatl was to the Aztecs. Due to this worship, they started developing the Venus Calendar calculated for thousands of years.
Mayas disappeared very soon. Their cities in southern Mexico and Central America were quickly covered by vegetation. They remained hidden until the 19th and 20th centuries, when they were object of important studies performed by Mexican and other scientists.