"Breakfast Room Decorating mexican style"
Here we'll be presenting a different decorating idea based in Mexican art, furniture and design reflecting this recurrent Mexican Rustic Style for those who search maximum comfort and tranquility.
These low-cost ideas illustrated here are conceived for an easy home adaptation and care and almost anybody can afford this atmosphere; this style has became very popular, due to the warm, pleasant and a hundred percent cozy environment it creates.
A wide variety of tendencies can be found going from the antique rustic style with rural reminiscent of country house to the most stylized that today is used in many urban homes. Choose the one that better goes with your life style and taste.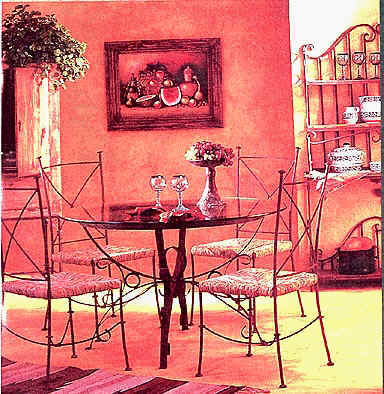 In Mexico, this room is called "Antecomedor" (Breakfast room). It is a small room adjacent to the kitchen where informal meals and breakfast are taken. In some cases it is used as an auxiliary room when kitchen is reduced. This room is different from the formal dinning room and from the usual kitchen table that is commonly used for preparing food.
Usually, this small room is pretended to be cozy and charm; it can be opened to a wide porch or garden, and this characteristic permits colorful and fancy decoration.
As a first recommendation, we suggest you to paint the walls or select wallpaper with predominance of vivid colors, using a yellow-based range.
Instead of that boring old rug, let's propose a radical change getting a "Saltillo Serape" (Colorful woolen shawl worn over the shoulders by Mexican country men) and using it as floor mat.
Try a countryside look over your walls by framing colorful Mexican themed still life paints with rustic wooden frames.
If you wish to change to a more fresh and light furniture, we introduce you the idea of wrought iron furniture. There can be found in rustic woven palm or rope. For table base, try both wooden or a thick glass covers.
Also, and for a matched set, you can find a huge extension of display cabinets and buffet furniture that fit any corner. In this case, we present an opened cabinet worked in wrought iron and wood that holds in blown-glass technique some wineglasses and talavera ceramic table items.
Using rustic woven linen and tablecloths, a total Mexican Style decoration is achieved.
Finally, remember that a natural detail such as plants or flowers; or your choice fruits welcomes a courteous atmosphere anywhere.
Enjoy your decoration…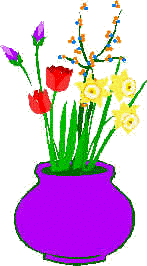 DECORATION TIP: Warm and light colors give your space a wider view. Try colors that go from light yellow to reddish violet in soft ranges.